The Great Blue Hole (3 tank)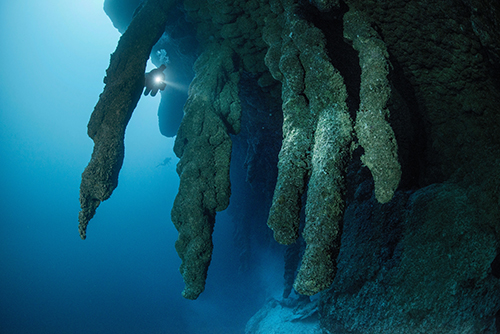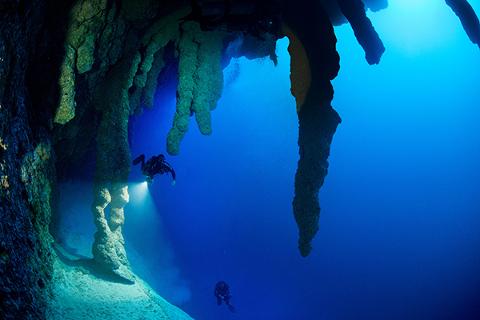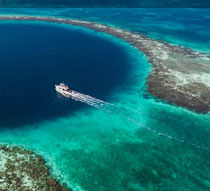 Duration: 12 Hours (approx.)
Location: San Pedro, Belize Distirct
Product code: BH
Elite Adventures Belize offers a incredible, full day of diving to The Great Blue Hole and Lighthouse Atoll. This three-tank dive tour is one of the best diving experiences in the Caribbean and the entire world!
Diving the Great Blue Hole in Belize is a bucket list item for many SCUBA divers. The Great Blue Hole is the first dive of the day. This remarkable sinkhole measuring over 300 metres (984 ft.) across and 125 metres (400 ft.) deep. The Great Blue Hole is a Belize National Monument and UNESCO World Heritage site. Experienced divers can venture to the limits of recreational SCUBA diving to see Costeau's giant stalactites at 40 metres (130 ft.). This profile is for experienced divers only—divers with 25 or more dives. For those not qualified for this depth or who simply want a longer dive profile, Elite Adventures offers a second dive profile to 24 metres (80 ft.). On this dive, you will not swim through the stalactites, however, you will experience the drop-off and likely see some sharks. Some of the best colorful coral and marine life reside in the shallow waters for snorkelers to enjoy as well!
The next stop after the Great Blue Hole dive, it's a 25-minute boat ride to Half Moon Caye Wall for the second dive of the day. Along the walls that drop beyond 300 metres (1,000 ft.), you'll see colorful Sea fans, Giant Barrel Sponges, Sea turtles, Eagle rays, eels, octopi, Reef sharks and Stingrays hiding in the sand flats. This site is one busy spot!
After your dive, the crew will dock at Half Moon Caye; a picturesque Caribbean island to enjoy a nice Belizean style cuisine lunch and with time to explore the island a bit. Half Moon Caye is home to a large bird sanctuary with an observation deck that overlooks a Red-Footed Booby Colony. This historical national park is nothing short of paradise!
The third and final dive of the day, Long Caye Aquarium, is a beautiful destination where marine life is healthy and plentiful. You will absolutely feel like you are diving in an aquarium! The crystal blue waters is perfect to capture sightings of the many tropical fish swimming around you, Eagle rays, Sea turtles, Stingrays, and Nurse sharks. This is the perfect ending to a spectacular day of diving.
These three sensational diving sites are located on Lighthouse Atoll, 60 miles southeast of Ambergris Caye. This is a full day of diving and boating (two and a half hours one way) that starts with a very early wake-up call, but it is a once-in-a-lifetime experience. The Great Blue Hole is the check-off item, but most divers say Half Moon Caye and Long Caye Aquarium are the highlights of the day—and that's what they talk about on the boat ride home!
The boat leaves the dock at 6:00 am (approximately a 2.5 hour ride to first location) and will return around 5:00 pm. Our prices es are structured as: (price for the dive) + (price for gear if you need) + (12.5% tax) + Park fee. This is one trip you must sign up for!